Another'9/11' - Indian Theatre exposed Bush

International Herald Tribune, 10-Sep-04
Steven lee Myers
September 9,2004
---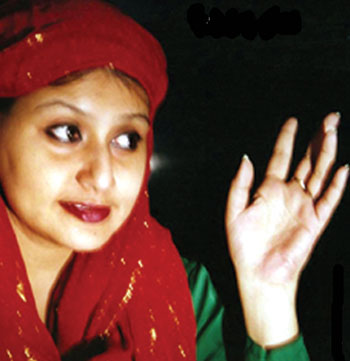 Sampa Sen, the leading Indian actress.


Another'9/11'

Indian Theatre exposed Bush


Steven lee Myers






LONDON: Indian foreign policy for America is challenged again by Intellectual Indian people. Its' really a Theatre and surprisingly a research based play 'Operation Flush' which is about the Abu Ghraib prison tortures. 'Frontline' from India reveals the fact that Sangram Guha, famous dramatist has done an excellent research to unearth the attack on prisoners of war. Like

Michael Moore, Sangram Guha with his all merit has taken a deep view over the level of tortures. Finally Sangram Guha developed a new finding which again shock the world. Abu Ghraib is detonated explosives that brought down the level of every

civil code of civilization, A new order of terrorism which can be sustainable in genetic code. ' There is more to the torture than just human depravity, a far more sinister plan is at work directed by a U.S. organization - the PNAC, which has converted Abu Ghraib into a prison laboratory with human beings as guinea pigs. The idea behind these tortures Is to observe the exact point of time when the prisoner gives in psychologically and at that moment collect a blood sample from the person and send it to the U.S.

The sample is then analyzed to determine the level and duration of fear of the tortured person, and also to see if the impact of terror can be perpetuated through the genetic structure of the prisoner', Sangram Guha analyzed.

The drama with its all capabilities of creating a form of research to a cerebral performance, it is not just a documentation of atrocities perpetrated by the strong upon the weak, but a story about the human spirit that cannot be broken. As expected it is already created a tremendous sensation as well as mind-blowing response among the intellectual circles of India who have interest in world dynamics.

From the land of Tagore and Ray new vibration from Sangram just stuck the news media of its tremendous effort to expose another approach of Iraq war. Moore and Sangram created a new line of media ethos that can be spelt as the possible future world of trust.