"Sangram"

Anandabazar Patrika, 05-Jul-04

July 5, 2004
---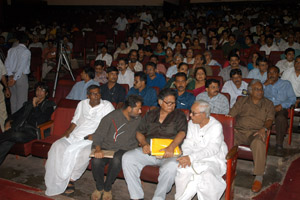 At the inauguration of Operation Flush.
Published in Kolkatar Karcha
"Sangram"

The most exciting feature for the Chief Minister Mr. Buddhadeb Bhattacharya. Its' a stage: Trial room for Abu Ghraib prison. One tent in Iraq. In this canvas Spandan will staged its new production "Operation Flush", for the first theatre performance in India. Dramatist Sangram Guha said, " Abu Ghraib prison is the first prison laboratory in the World where experiment for sustainability of Terror is being carried out." Lt. Colonel Nathan Srasman and Cell Commander Luke Harding were suspended from U.S. Army for torturing prisoners-of-war (PoWs) violating protocols of Geneva Convention. This drama is based upon its trial. Sangram collected entire trial report from America. Main focus of Sangram is, the idea behind these tortures is to observe the exact point of time when the prisoner gives in psychologically and at that moment collect a blood sample from the person and send to the U.S. The sample is then analysed to determine the level and duration of fear of the tortured person, and also to see if the impact of terror can be perpetuated through the genetic structure of the prisoner. That incident was disclosed by outburst of a woman named "Noor". Even after repeated rape and physical torture for a prolonged period, her blood specimen does not show a trace of fright. She eventually manages to escape and brings the living hell of Abu Ghraib to the notice of the Human Rights Commission. The Daily Mirror first published her photographs, and then it was circulated in all over the world. It was reached in Kolkata also. With a great excitement Sangram wrote this drama within seven days with a tireless effort. Total 14 actors and actresses made this performance successful. Congratulation Sangram! Kolkata is heading among the all in this sphere.