Geelani play, now drama in real life

The Indian Express, 19-Feb-05
Sabyasachi Bandopadhyay
February 18, 2005
---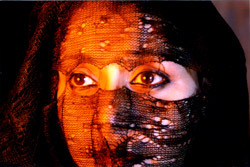 Sampa Sen as a model in 16 Millimeter


PAGE 1 ANCHOR : Kolkata playwright under police cover after Geelani attack



Geelani play, now drama in real life




Sabyasachi Bandopadhyay






TEN days after he was shot at in New Delhi, S.A.R Geelani is playing the lead role in another story, at another place.

A Kolkata playwright, who wrote a play 16Millimetre based on the Parliament attack, has lodged a police complaint, saying he received mysterious calls on his mobile on February 13, five days after the Zakir Hussain college lecturer was attacked.

The calls, made from New Delhi PCOs by people who spoke a mixture of Punjabi and Urdu, came again on February 14, Sangram Guha told The Indian Express.

Today, the frightened playwright has been provided with a 24-hour armed police escort on the instructions of Chief Minister Buddhadeb Bhattacharyee, himself a playwright— Guha's family is under security surveillance, too.Guha's nightmare began after he got a call from the CM a day after Geelani was shot. Bhaltacharyee, Says Guha, told him that his play's script Geetani is shown as having been framed—was turning true. The CM, Guha says, also suggested that the Geelani attack be incorporated into the play, which has completed 57 shows since the first on July 5,2004.

Four days later, the mysterious calls came, forcing Guha to stop his son from going to school for a few days and approach the CM, who also heads the state's Information and Cultural Affairs Department, where Guha works. "It was very unlikely that anyone will call from Delhi on my cell phone and speak in Urdu or Punjabi," says Guha. The play's only Delhi connection so far, says Guha, has been that it was staged once each this year, at the Sriram Art Centre (Jan 8) and India Habitat Centre (Jan 9) —one month before the attack. Guha says he was unable to comprehend what the callers said. "But it did not seem that I was being abused or threatened," says Guha, who called the numbers back to reach four PCOs in New Delhi. Says Prasun Mukherjee, Police Commissioner: "We are investigating the case. I can't say anything beyond that because it is a sensitive issue."

16 Millimetre captures in detail the aftermath of the Parliament attack on December 13,2001, and digs holes in the investigation while hinting broadly at Geelani—an invisible character—being set up by the prosecution.

The hour-long play is based on arguments and counter-arguments in court relating to the trial of Geelani, who was first found guilty of involvement by a POTA court before being acquitted by the Delhi High Court- Guha says part of his research even involved interaction with the CB1. And. despite the mystery calls and police cover, Guha says he will carry on with his shows. "I am going lo Mumbai next month for staging the play," says Guha.