Defence Ministry embarrased by Sangram's New drama

Anandabazar Patrika, 26-Oct-05
Staff Reporter
Delhi, October 25, 2005
---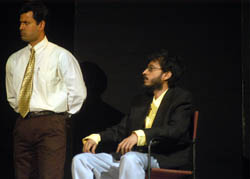 Shyamotpal Chanda and Sangram Guha as I.B. officials.


Defence Ministry embarrased by Sangram's New drama



Staff Reporter






A reality based drama deals with the role of defence ministry in controling an International drugs and arms trafficing racket, creates sensation in North Block.An International racket who are conducting drugs and arms trafficing from Myannmar to North East of India are operating their business since long back. To intercept this route Indian Navy started Operation Leach-II in 1998. They were chasing the terrorists and pushed back a huge ship loaded with arms and drugs towards Andaman. At that crucial point that Opeartion was suddenly withheld.

In that subject one drama from Kolkata stage is prepared to perform. And the Defence Ministry expressed its embarrassment of that. The Intelligence Department of North block is deeply involved about this drama and its content. Ex Naval Chief Admiral Vishnu Bhagwat raised some pinpointed question towards Defence Ministry at NDA regime. But Defence Minister at that time Gorge Fernandez ignored all of those allegations.

The dramatist Sangram Guha is a member of Communist Party of India. For that reason it is probable that Party have endorsed its permission for final performance. Total three and half years was taken for preparing all the research work and to collect relevant data. In this regard many eminent persons like Vishnu Bhagwat, P N Haksar, Mark Tully etc. helped Sangram to write this drama. Not even that, Chief Minister Buddhadeb Bhattacharjee himself expressed interest about this drama. He will witness the premier show of it. Many concern intellectuals strongly believe that the drama will create tremendous sensation. But sources from Defence Ministry told that before viewing it is not possible to make any comment over that.

Indian Intelligence department first noticed the existence of concerned drugs and arms trafficking racket on 25th January, 2000. The instruction to intercept this racket was sent to Indian army. Defence Ministry arrested Abdul Bahal Siddiki, the key person of the racket. By his source attempt for arresting all others were started. But Siddiki secretly passed on to the drug operator unit that their network was being disclosed to the Army and it was necessary to surrender. Defence Minister instructed to surrender unconditionally to the Army at lower Punch on 9th May. Next day Division 40 of Indian Army organized the surrender camp. But when the terrorists were proceeding in the camp, suddenly Army started firing. Subedar Yusuf protested and for his intervention seven terrorists were escaped. For that reason Yusuf was Court Marshaled. Yusuf sent a letter for protest. To withdraw his letter severe pressure was mounted on him. But Yusuf did not withdraw it. Sangram told, after that his leg was amputed. Among the escaped seven, six terrorists found dead in the valley. But Farah, a lady terrorist was untraceable.

To write this drama, when Sangram came to Delhi, he found a lady Lawyer of Delhi High Court Dona Bedi was involved in its enquiry. Dona raised the question about salinity of Defence Ministry in arms trafficking. Sangram told, the day on which Dona was planned to file up the case in High Court, on that morning she was arrested under POTA. 28th December 2002 Dona was expired. These incidents are depicted in the drama. The Arabic letter Istishadi means crusader.