Commissioner of Delhi Police want to see "16 MM"

Anandabazar Patrika, 06-Aug-05
Staff Reporter
Delhi, August 5, 2005
---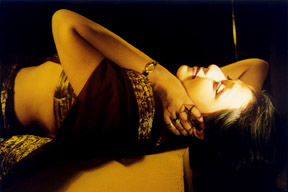 Sampa Sen in the drama.


Commissioner of Delhi Police want to see "16 MM"



Staff Reporter




The police Commissioner of Delhi, Mr. Krishnakanta Pol never thought that a Bengali drama could have been associated with the 271 pages long final judgment about the terrorists attack on Indian Parliament. The name of this drama is "16 Millimeter". The drama was staged both in Kolkata and Delhi. Theme of this drama is Parliament attack and the accused SAR Gillani. On Thursday the Supreme Court division bench comprised of Justice P. V. Reddy and P. P. Noulekar did not declare any punishment for Gillani but they indicated some point of suspicions. For that reason Police department will continue the enquiry about Gillani. And for this enquiry the drama "16 Millimeter" is relevant.

Why? The sources of Home Ministry of India told several times that the theme of this drama is very close to the final judgment of Supreme Court of India. For that reason the Police Commissioner told, "Now I must see the drama to my earliest opportunity. I can't understand Bengali. Still I want to see it. Apart from that I want to read the English version of this drama". The Intelligence Bureau already started discussion and introspection about this research based drama. Chief Minister of West Bengal Buddhabed Bhattacharjee also saw this drama.

"16 Millimeter" in one side raised the issue of police torture on Gillani without any justified reason; on the other side it also raised three major questions about Gillani's association. First one is, why did Md. Afjal (a dreaded terrorist) bought a mobile phone for Gillani through his credit card? Second one is, why Afjal made a phone call to Gillani on the same day of attack? Third one is, what are the actual reasons of Gillani to maintain a close relation with Afjal and other associates? These three questions that were originated by the drama surprisingly aligned with the reality. Even the apex court also raised the same questions.

This eventual similarity of reality and the drama written by Sangram Guha surprised even Gillani himself. He reacted about this drama as, " Drama is a form of art. But in case of 16 Millimeter the reality and the drama are amazingly blended. Which part is real and which one is drama-before actual perception drama goes ended" The drama raised some mystic activities of terrorists who actually attacked Parliament House. Such as, it is questioned that why did the suicide squad brought mobile phone in suicide attack. It is unprecedented that suicide attackers carried mobile phone. Apart from that, before their last breathe two terrorists Md. Raja and Md. Tarik continuously made a phone to a particular number in 48 times. But why do the enquiry probe just ignored this surprising fact? After Thursday judgment of Supreme Court these anomalies are creating tremendous debate within the concerned sectors. Court as well as drama revealed logically the partial failure of Police department. Before launching of this drama the dramatist had been talked with Gillani and many more concerned personalities. After performed in Delhi the dramatist was threaten several times over phone.