Breath-taking Curiosity Generating Play

Anandabazar Patrika, 03-Apr-04
Shantiranjan Chattopadhyay
April 3, 2004
---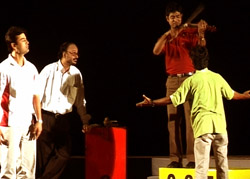 A scene of 16 Millimeter.


Breath-taking Curiosity Generating Play



Shantiranjan Chattopadhyay




A group of terrorists launched a sudden brutal attack on the Indian Parliament House. This news had created panic among the whole nation, which ultimately subsided after the arrest of a certain Professor from Delhi alongwith other terrorists who was involved with the attack. The trial went on for as long as a year and finally the Professor was given death sentence. The flow of

incidents started taking sharp turns right after that. All on a sudden the Delhi High Court declared him not guilty on November 22, 2003 after another year long trial. The dramatic happenings behind this incident is the plot of the Spandan IPTA's play "16 Millimeter" (Director , Playwright and lead cast is Sangram Guha) which, in Spandan's words, 'a complete breath taking thriller'.

The background of the story is the midnight before the final verdict. A person identifying himself to be a CBI officer suddenly drops in to the house of Miss Soumi, the lawyer of the accused and a "beautiful model", at the dead of night. The formal introduction, which starts off with initial exchange of dialogues, slowly intrudes the social and personal lives of Soumi Pancholi. Slowly but steadily the mercury of their discussion keeps rising and starts unveiling the various links of the conspiracy. Finally it reaches such a climax that the fake CBI officer sheds off his disguise and comes out with his real character of a ferocious terrorist. The natural yet aggressive dramatic moments created by Sangram Guha and Sampa Sen, the leading lady of the play, during the final moments is seldom experienced in today's theater. Although one may get curious about the authenticity of this thrilling scene and its dialogues, but must admit an unsolved mystery exists somewhere in the entire feature of the play which is invisible and intangible, especially in the name of "16 millimeter".