Operation Flush ignites Abu Ghraib memories

The Indian Express, 27-May-05
Sabyasachi Bandopadhyay
May 26, 2005
---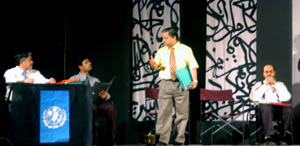 a scene of Operation Flush.


Operation Flush ignites Abu Ghraib memories

Sabyasachi Bandopadhyay



Abu Ghraib and the atrocities reportedly perpetrated by US soldiers on their Iraqi prisoners were brought to live on stage through Operation Flush, marking a year since the troops were put on trial.

Staged by IPTA at the Academy of Fine Arts yesterday, the play is based on true incidents, with real-life characters associated with the trial enacting the role of the protagonists who portray the trial of US soldiers accused of torturing Iraqi prisoners of war behind the bars. The trial had commenced in California on May 25 last year. The play, staged both in Kolkata and Delhi on earlier occasions, had won the accolades of theatre connoisseurs, including Chief Minister Buddhadeb Bhattacharjec and writer Sunil Gangopadhyay. "We are working on a new play, which we will stage in July this year. But since May 25 marks the anniversary of



the Abu Ghraib trial, we have chosen this day for the show. This is our protest against terror, unleashed both by fanatic groups and the state," Sangram Guha, the playwright who also acted in the play, told News line, The playwright and director says he is working on a new play that will focus on the alleged misdeeds of former Defence Minister George Fernandez. "We will rehearse on the play during the entire month of June and the show will start from July," Guha said.

Along with Operation Flush, Guha on Wednesday staged 16 Millimeter, a play depicting the attack on Syed Abdul Rehman Geelani, a lecturer of Delhi's Zakir Hussain College who was arrested on charges if alleged involvement in the December 26 attack on Parliament, later acquitted by a Delhi court. In actual life. too, as the drama suggests, Geelani was shot by unidentified gunmen. This play had also been staged earlier in Kolkata and Delhi to rousing applause.

"Both of my plays were in fact protests against terror and that is why we chose to stage today the second play too," Guha said.