Virtuous Realization Of Sukhmoni and Others. --- Chandan sen .

AJKAL, 23-Oct-10


---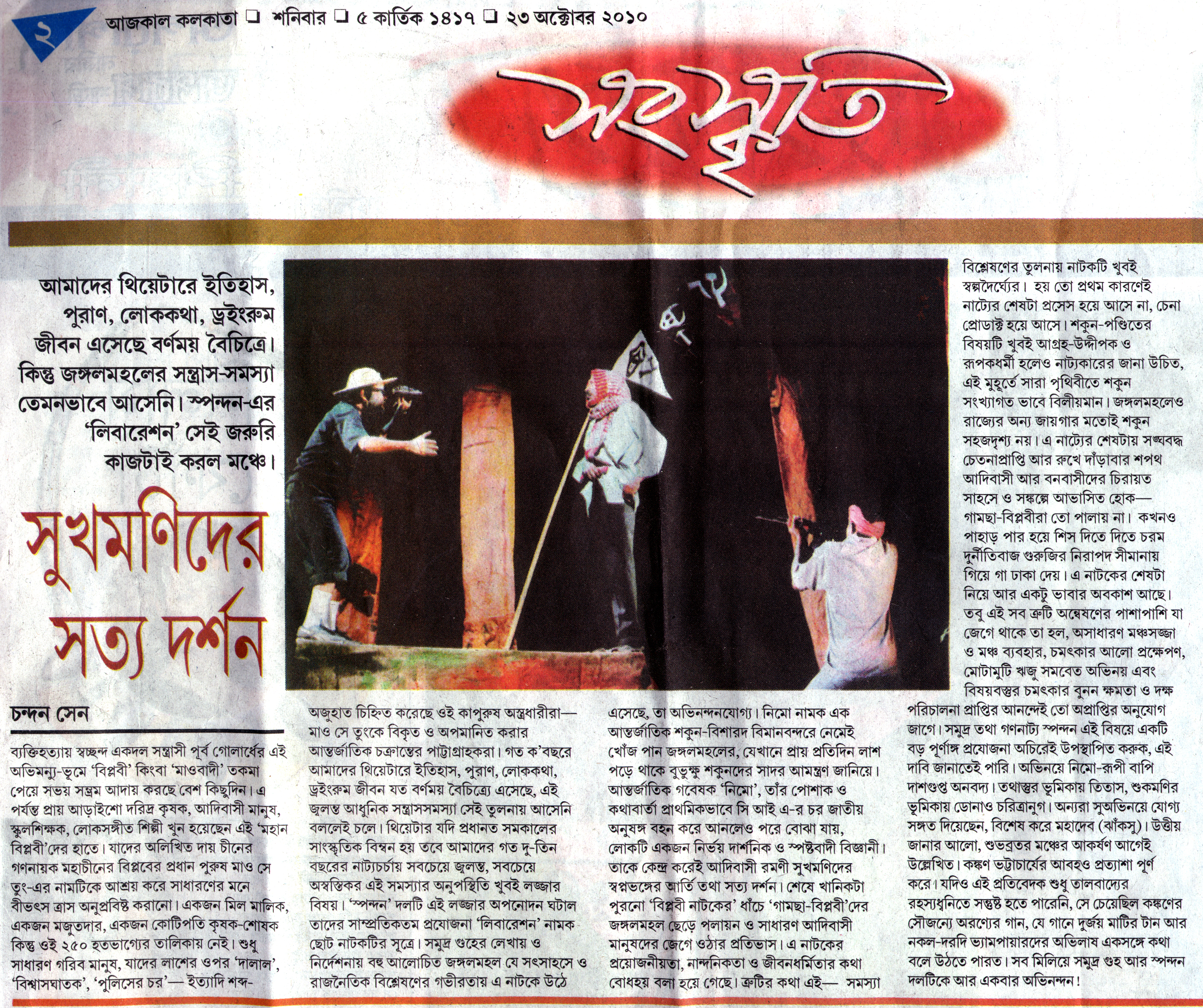 A brand terrorist who are skilled in annihilation now getting reverence as Maoist in this eastern part of India . Till now about 250 people consist with tribal, school teacher, folk artists killed in the hand of these so called revolutionaries. They use the very name of great pathfinder of socialism in China Mao-se-tung to scare the poor people through terror and plunder. There is not a single name of any mill owner or hoarder or multi-millionaire in the name of 250 people. Only the poor people dead body now being branded as informer, betrayer, police spy etc by these coward arms thugs and silhouetted Mao-se-tung as co-conspirator of imperialism. In the last several years in Bengal theatre we saw so many theatre on mythology, folk , history, drawing room but the absentia of this hitherto truth really shame for all of us. Spandan is not only inundate us but also baptized us through their one act drama ď LIBERATION ď. Presentation of fact and file of the crisis of Jungalmahal and intelligent political analysis of this drama made by dramatist Samudra guha undoubtedly a commendable work indeed.

Nimo a renowned bird specialist came here in West Bengal knowing the fact that by and large each and every day in Jungalmahal dead body invites the scavenger vultures. The shod and clad of Nimo at a first glance appeared as a stooge of CIA but later revealed the true identity of him as smart inexorable philosopher and social scientist. The hue and cry of Sukhmonis (tribal girl) heralded with Nimo and their realization through the demise of their dreams. The retreat of so called revolutionaries and unified rejuvenation of people conclude the drama as in old fashion. I suppose that I have already discussed the need, proximity, intellect and artistic values. The main deficiency of this drama is itís short time span. I suppose due to this reason the end is not come as a process but as a known product. Though the representation of vulture specialist creates a tremendous curiosity but it is a known fact that vultures are now gradually extinct from the globe. In Junglemahal too vulture is a rare species. Peoples resolute defiance towards the apache should be envisaged in drama but hitherto truth is these trigger happy monsters does not fled away easily. They use to take shelter at the helm of Gurujiís area frequently crossing the hill terrain. There is a lot of scope to think about the end of this drama.

Despite these loop and holes what remain fantastic is of course nice set design and space utilization, powerful team work and startling direction. Itís our demand that Samudra should produce one more theatre on this theme on behalf of IPTA spandan.

Nimo role played by Bapi dasgupta is fantastic. Tathastu ( Titas Das) and Sukhmoni ( Dona Gupta) also done very well. Especially Jhanksu ( Mahadev Shee) no mention at all for appraisal. I have already mentioned the name of set designer Shubhabrata Chanda chowdhury and light director Uttiya Jana , now music director Kankan bhattacharjee though his efficiency undoubtedly appreciable but I am not satisfied with only the rhythm of forest rather I expect powerful folk song which ameliorate peoples consciousness against the evil forces.

Finally once again I congratulate Samudra and spandan for their maverick works and deeds.