We can't seek publicity by talking politics on channels

Times of India, 24-Sep-11
Priyanka Dasgupta
Kolkata, 24 September 2011
---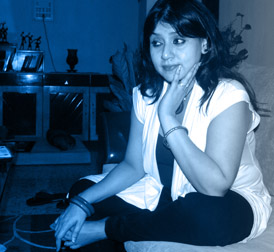 Sampa Sen in her Studio
We can't seek publicity by talking politics on channels

What prompted you to stage a play on the26/11 terror attacks?

 Our group, Spandan. has been working on docu-theatre against international terrorism. While Sangram Guha Is our playwright and director. I play the main lead and also design the sets and costumes. During our research on international terrorism, we found that the Mumbai terror attack was almost comparable to a war and would not have been possible without help from a local network group. Our play tries to question the inner motive behind the attacks. It is based on the true story of a Journalist who had spent three days covering this attack. Very few people know that there was a Pakistani musician who was play­ing inside the Taj when the terror attack happened. This journo was very passion­ate about music and had developed a con­nection with this musician. However, no one knows what happened to this musician after the attacks. In real life. this journalist had also gone to Pakistan

to trace the musician. But she could never trace him. It was her unfinished choir. Our play explores this connection between terror and music too.


Considering that the trial of Kasab It still on, how challenging is to take a stance about his involvement in the terror attacks?

That was a really difficult part for us. There Is one scene where we show Kasab in a silhouette. Since Kasab's case is still sub-judice. we haven't given his character any dialogues. Instead, we have used video footage from filmmaker Dan Reed's documentation of terror attacks. We got in touch with Dan who allowed us to use raw footage from his documentation       
Since music is an important part of your play, how did you approach it?

We have been privileged enough to have got Philip Glass to compose a piece for us. That apart, Yanni has given us permission to use one of his pieces too.
But it must have been mighty expensive to have such maestros on board for a Bengali play…

We would never have been able to work with them if we had to offer them their remuneration. I was teaching in Poland and subsequently, had gone to Germany where I was introduced to Glass. I told him about our kind of docu-theatre. He liked the fact that we were working against international terrorism and agreed to do a piece for us. In one of our earlier productions, "Anticlock" (based on the 9/11 attacks), Michael Moore had allowed us to use footage from his documentary.
From being appreciated by Pervez Musharraf to having bagged consent from Michael Moore to use his footage, you seemed to have done quite a lot in the context of Bengali theatre. Yet why Is it that your work is not so much in the public glare?

We have performed in France, Germany, Poland, Austria and Italy among other countries. Our play, "16 Millimeter" which was based on the Parliament Attack in 2001, was staged at the Biennale Bonn Festival in Germany.

"Operation Flush" was based on real incidents that were conducted by the US Army in Iraq's Abu Ghraib prison. We were invited to perform it in the World Performing and Visual Arts Festival in Lahore, Pakistan. I have often been asked why people know more about our work in foreign shores than they know in Kolkata.

Here, one has to be a mouthpiece of a certain political party, to be on television channels. We aren't keen to join that matrix. We can't seek publicity by talking politics on channels. Someone as iconic as Augusto Boal had come down to Kolkata to do a workshop. Immediately after this visit, he passed away. But bow many know about his Kolkata trip?  I am left wondering how many are interested in talking about serious work in the media.
Since you teach Bengali at the Goenka College, haw many of your students are interested to your docu-theatre?

One must understand that my kind of theatre is not about doing serials We avoid the gloss Of course, there have been students who have come to watch us or joined us too. But most have come and gone. Our group is pretty much heterogeneous. While I am a teacher, there is an auto driver, a computer en­gineer, a doctor and people from the media who »re involved with us.
What's the status of the production on Mukhtar Mai?

My father passed away recently and hence, I had put a pause to the work. I hope to be ready with the play by next year. This play will not be only on Mukhtar Mi but will also deal with oppression of women in Khap panchayats too.