ANTICLOCK

The Times of India, 03-Nov-07

November 3,2007
---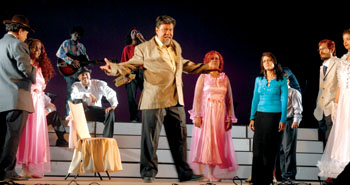 A scene of Anticlock.

ANTICLOCK

Directed by: Sangram Guha

Performed by: Spandan


The play is set in the US with the horror of 9/11 forming the backdrop. Dolby-digital sound system has been used to recreate various events leading to the crash of the twin towers. Video clippings of the incident have been used to create a realistic ambience. The central message of the docu-drama is voiced through the words of residents who want a world free from terror. A moving play that talks of a burning global issue, Anticlock challenges the audience to ponder over the vices of the modern
world. Pablo Benerides, a musician based in Rome, has scored the music for this play The cast: Sangram Guha, Sampa Sen, Samudra Guha and Abhigyan Guha among others.


DIRECTOR SPEAK—SANGRAM GUHA

Why have you named the play Anticlock? I named this play Anticlock since this play begins with the hanging of Saddam Hussain and moves back in time to the disastrous event of 9/11.

Why have you set the play in the US when terrorism is a worldwide concern?

I believe terrorism has its source in the US. There are certain organisations in America, which indirectly support terrorism for the sake of the war industry. In fact, all the recent wars were pre-determined by the secret American organisations. I think the entire world is suffering because of this nation.

Why have you based your play on the events of 9/11?

September 11 has had a global effect. One single event rocked the world and shook it out of its stupor. The hard reality is that no country is invincible. If it can happen in the US, which is considered as a citadel against terrorism, it can happen anywhere. Hence, it is natural to base this docu-drama on the blood-chilling attack of September 2001.