'Truth' inside a truth

Aajkal, 24-Nov-07
Alok Prasad Chattopadhyay
November 24,2007
---
Outstanding Actress Sampa Sen.

'Truth' inside a truth


The Spandan Theatre group has staged Documentary theatre "ANTICLOCK" this time. In a tense thriller, Spandan attempts to unveil the conspiracy behind the demolition of World Trade Centre. Despite a massive explosion of documents, it is easy going and a breathtaking production.
Alok Prasad Chattopadhyay
There is 'truth' inside a truth/ Like water inside a cloud/ Behind smiles sometimes/ are tears to wet the eyes.
The prostitute we first see on the stage is used to sell her on the streets of New York. Gradually we associate ourselves more with lascivious and cigarette-smoking Lola Kardue and soliloquize that there are tears behind the smile.

This theatre is an attempt of Spandan,IPTA to unearth truth inside a truth. In terms of Spandan 'Anticlock' is a multimedia international theatre. One evening in New York Lola finds that a dead body is being sent out to somewhere else. She starts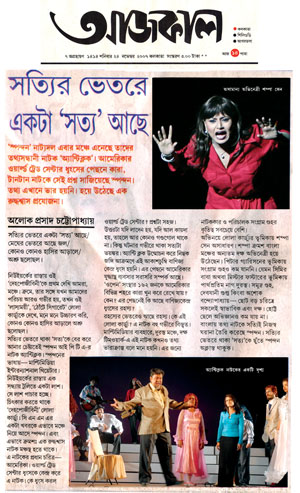 screaming. Spandan flashes this CNN news on stage and the breathtaking theatre unwinds with main focus on America. The plot centres round the demolition of World Trade Centre. But the question was 'who?' A easy question indeed. There is no trouble if the answer is Laden and more precisely Al Qaeda. But deep inside this event is a harsh truth. 'Anticlock' gradually unveils the reality that the demolition of this highrise trade centre is not the outcome of a mere terrorist attack. Rather it has a direct relation thewith weapon trading of America. Who is behind the killing of the members of OPEN group in different towns of U.S.A.? Why are they murdered ? Is it then the mystery behind the destruction of World Trade Centre? Mystery inside Mystery. Who is Lola Kardue? The theatre has its root too deep inside. It has never been overburdened with mere presentation of documentations. Credit goes to application of multimedia, proper use of sets and excellent teamwork.

The playwright and director Sangram Guha has the major contribution in it. Sampa Sen, in the role of Lola Kardue is more than excellent. She is gradually developing herself to become one of the famous artists in Bengali stage productions. The role of Sangram Guha (Peter Garrison) is also worth-mentioning. Partha Pratim Nag in the role of Simmi's father or Mr. Foster is unparalleled. Characters depicted by Samudra Guha, Debjani Gupta or Asok Bandyopadhyay are natural and praiseworthy. And no less important is little Abhigyan. Spandan has really developed a tradition of its own in Bengali Documentary Theatre. May Spandan's endeavor to touch 'truth' inside a 'truth' be an endless journey.