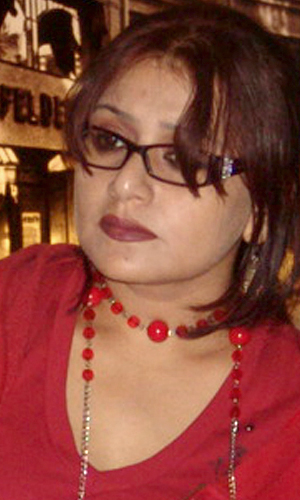 Sampa Sen
Role: Director, Actor, Set Designer, Coustume Designer

Achievments:Awarded BHARAT NIRMAN AWARD 2007 for exemplary contribution in THEATRE.
Awarded for OUTSTANDING CONTRIBUTION IN THEATRE 2006 conferred by FICCI Ladies Organization.
Awarded BANI BASU MEMORIAL AWARD from Presidency College, Calcutta University for securing First Rank in Graduation Examination.
Awarded UNIVERSITY GOLD MEDAL from Jadavpur University for securing First Class First Rank in Post Graduation Examination.
Sampa Sen has performed more than sixteen hundred theatre shows in all over India, Germany and Pakistan in the last Ten years. About 1.5 million audiences had witnessed her performance.

Bio Data:
Sampa Sen in ACADEMICS
University Topper from Presidency College, Calcutta University at Graduation in Bengali Language & Literature as Major.
University Topper at Post Graduation from Jadavpur University in Bengali Language & Literature.
Ph.D on the Topic - "Theatre of Bengal : In the Chemistry of Politics & Society" from Rabindra Bhatrati University, Kolkata.under the supervision of Prof. Himabanta Bandyopadhyay.
Master of Philosophy Degree from Jadavpur University in the research field "Theatre movement in Bengal", under the supervision of Prof. Pabitra Sarkar.
Major Research project in Asiatic Society, Calcutta in the field of "Western Influence on Rabindranath Tagore's Life and Work" under the supervision of Prof. Bhabotosh Dutta.
Film Appreciation course from FTII, Pune
Sampa Sen as PROFESSOR
Associate Professor in Government College, W.B.E.S. Teaches at Bidhanagar Govt. College, Goenka College of Commerce & Business Administration, Hooghly Mohsin College since 1996.
At Foreign Universities - She teaches at Warsaw University at Poland, Charles University at Prague, Czech Republic and Saint Luis University at Madrid, Spain.
Sampa Sen as POET & WRITER
She wrote about hundred original poems, which were, published in all the leading literary magazines, like Sananda, Krittibash, Bhashanagar etc.
She wrote more than 150 original articles about various subjects like film, literature, performing arts all of which were published in leading newspaper and journals like Anandabazar Pakrika, Desh etc.

Sampa Sen in FILM & MODELLING
She acted as the lead actor in Indian first documentary film about Solar Power Station. It was premiered in Canada. She acted in many telefims as the lead actor, which was telecasted in Zee TV, E-TV etc. She acted in many experimental films produced by Satyajit Roy Film & Television Institute.
She is now acted as the lead model of a still theatre photography project, which is the first project in the world photography based about International Terrorism.

Sampa Sen in THEATRE
In the last TWENTY years she acted in the lead character in all the plays of Spandan like, "Rape Particle", "Fingerprints 26/11", "Anticlock", "Istishadi-the suicide squad", "16 Millimeter", "Operation Flush", "Ground Zero".

Sampa Sen in Celebrity COMMENTS
Your sincerity will strengthen the Nation.
Dr. Manmohan Singh, The Prime Minister of India.
Smart, brilliant and highly skillful actress in India.
Wasim Kapoor, Leading Painter of India
She has tremendous acting quality with dazzling appearance.
Sunil Gangopadhyay, President Sahitya Academy, Govt. of India.
Versatile as well as convincing acting power.
Padmasree Soumitra Chatterjee, Noted Actor of India.
Bold but beautiful.
Usha Ganguly, Noted Director and actress of India.
Mind-blowing performance with unforgettable stage appearance.
Pandit Tanmoy Bose, Noted Music maestro.

Sampa Sen in MEDIA
Undoubtedly the leading theatre actress in India.
International Herald Tribune (Paris).
High quality precision and logical acting.
Guardian (UK).
Sampa Sen can be acclaimed as the best actress in India.
Die-Welt (Germany).
A quality actress with tremendous power of expression.
Frankfurter Allgemeine Zeitung (Germany).
Original in stylization and a true perfectionist.
The New York Times (USA).
The most sensual factor in stage
Washington Post (USA).
There is something new in her.
Dawn (Pakistan).
Aesthetically great with a very original in expression.
The Times of India.
Elegant and smart presentation.
The Hindustan Times.
A rare talent in Indian Theatre.
The Indian Express.
Emotional and well balanced.
Frontline.
A great performer indeed.
India Today.
She is really a rare and brilliant actress.
Anandabazar Patrika.
Genius...talented...powerful
BBC, CNN, FOX, Pratidin, Aajkal, Ganashakti, TIMES NOW, Zee TV, NDTV 24X7, CNN-IBN, E-TV, ABP Ananda, 24 Ghanta, Akash Bangla..........
Acted In : 16 MILLIMETER, ISTISHADI-THE SUICIDE SQUAD, ANTICLOCK, OPERATION FLUSH, RAPE PARTICLE, FINGERPRINTS 26/11, Ground Zero,