Sangram Guha
Role: Playwright, Director, Actor

Achievments:Achieved NATIONAL TALENT SEARCH SCHOLAR after securing a position in the "top 50" merit map in Madhyamik Examination.
Achieved ACHARYA PROFULLA CHANDRA ROY MEMORIAL MEDAL for securing Top position in M.B.A. from IISWBM, Calcutta University.
Started DOCUMENTARY THEATRE for the first time in India, which are research based and thoroughly supported by authentic documents.
Awarded BEST DRAMATIST OF THE YEAR by Natya Academy, Govt. of West Bengal in 2001 for the drama 'Ground Zero'.
Awarded TRIPTI MITRA MEMORIAL AWARD by Bengal Srachi Group in 2006 for the drama 'Istishadi-the suicide squad'.
Achieved EUROPEAN PREMIER TITLE by Germany in 2006 for the drama '16 Millimeter'.
Achieved CULTURAL AMBASSADAR TITLE by Govt. of India and the title was conferred by the Prime Minister of India, Dr. Manmohan Singh in 2006.

Bio Data: Sangram Guha in ACADEMICS. He had done his Graduation from Presidency College, Calcutta University in Physics as major. He had done his Post Graduation as M.B.A. with a specialization in System Management from IISWBM, Calcutta University securing Top rank.
Sangram Guha in Paris.
Sangram Guha as a
WRITER
. He have a scholastic orientation to popularize Science & Technological dynamism around the world to the common people of India. He had contributed more than 5 thousands original articles related to Science & Technology in leading Newspapers, Journals and compiled edition of books.
Sangram Guha as a
RESEARCHER
. He is doing very original research on International Terrorism based on authentic documentation with historical-social-political-scientific logic based methodology in the last 15 years. All of his research driven theatres are focused on the actual dynamics of International Terrorism. His objective is to aware the people about the menace caused by this brutal conspiracy and to make them aware about the actual 'behind the curtain story' of present day Terrorism.
Sangram Guha in Venice.
His aim is to carryout the message for peace, love and the power of humanity at large.Apart from theatre his many valuable articles about Terrorism was published in many leading Newspaper.
Sangram Guha in
THEATRE
. Actually he started for the first time in the history of Indian Theatre, DOCUMENTARY THEATRE, a rare genre of world theatre, which was originally generated from USA in 30's and Germany in the late 60s. All of his theatres are real, research based, authentically documented and contemporary. He had started his carrier in theatre in 1999. His first theatre "Ground Zero" is the first scientific exposure of Pokhran Atomic Blast in India. "Ground Zero" had performed 185 shows in all over India and more than 1 lakhs people had witnessed the theatre. Till date he had written 5 original drama and all of them had been tremendously acknowledged by all over the globe. His successive theatre "16 Millimeter"in 2004 & "Operation Flush" in 2004 again created a massive sensation in NSD, Germany & Pakistan. It had created another history of Indian Theatre due its tremendous media exposure in USA, Europe and Asia. In 2005 he wrote "Istishadi-the suicide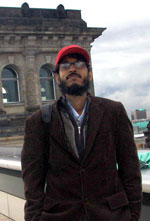 Sangram Guha in Berlin.
squad" a legendary production, which relates the world academician into Indian theatre. In 2007 he wrote "Anticlock" the first International Multimedia Theatre Production in India. Apart from Playwright and Director he also performed as an actor since the last 18 years. He had already performed more than one thousand stage performances in INDIA, GERMANY and PAKISTAN.
Acted In : 16 MILLIMETER, ISTISHADI-THE SUICIDE SQUAD, ANTICLOCK, OPERATION FLUSH, RAPE PARTICLE, FINGERPRINTS 26/11, , Ground Zero,