ISTISHADI-THE SUICIDE SQUAD
Written by: Sangram Guha
Directed by: Sangram Guha
Executive Direction: Sampa Sen, Samudra Guha.
Music: Kankan Bhattacharya
Set: Hiran Mitra
Light: Pran Krishna Kundu
Costume Design: Sampa Sen
Sound: Bikash Ghosh
Make up: Md. Ali
First show on : October 31, 2005 at Rabindra Sadan, Kolkata
Shows till date: 42 till May,2010
Synopsis of the Play
The uniqueness of the Play is enhanced by the fact that no imaginary or surreal episodes have been incorporated in this whole-
Sampa Sen as Dona Bedi and Abhigyan Guha as Aladin.

real drama. The drama centers on the mind-boggling experiences of a young lady lawyer Dona Bedi who fights a legal battle of her life against drugs and arms menace.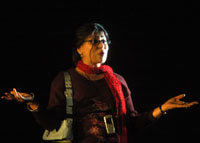 Sampa Sen as Dona Bedi.
On May 13, 2000 an incident took place in Poonch District of Kashmir. Indian Army had organized a surrender camp for the militants of Lasker-e-Taiba outfit. The activists came to lay down their arms and to prove their allegiance to Govt. of India. But all on a sudden, the army personnel opened fire without any provocation on the unscrupulous and unarmed militants under an instruction of Brigadier Veid, who masterminded the operation. Despite vehement protests from Subahder Major Yusuf, the firing continued. Almost all the militants expect a few, were shot to death. The survivors including the lady, Farah Anwar by name could manage to escape. She is now settled in New Delhi with a disguised identity. Yusuf is court martialled on the false allegation that he was caught in the act of spreading communalism in the army. Yusuf is punished and demoted. In protest, he writes to the chief of army staff and the ministry of defence, giving a detail of the real incident.
Brigadier Veid threatens Yusuf with dire consequences, if he does not withdraw the letter. Yusuf refuses to do so. The next day, while patrolling the LOC, he is shot at in the right leg and eventually maimed...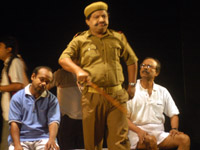 Ashim Roychoudhury as Habilder Halkeram.
Major Jaipal, a sincere colleague of Yusuf came to Admiral Krishna, who was sacked from navy due to some unproven charges. Jaipal informed him about the whole incident. Krishna recollected that the same incidents already occurred in Manipur, Guwahati and Kashmir, where the militants, who were involved in drug and arms operation, were forced to surrender and they were killed at that place. And everywhere the chief executor is Brigadier Veid who is a close ally of the Defence Minister.Admiral Krishna asks Jaipal to get in touch with Dona Bedi, who is trying to delve deep into the nexus between the terrorists and a section of
Asok Bandyopadhyay as Prof. Hassan and Sampa Sen as Dona Bedi.
bureaucrats.On September 11, 2001, Dona receives a phone call from Farah Anwar, who is staying at the residence of Prof. Hassan of Delhi University. Dona is quite in dark about Farah although she knows a lot about Prof. Hassan as she was his student. farah informs Dona about the attack on World Trade Center and Md. Atta of Al Quaida.
In the mean time, Farah becomes a familiar name to the Intelligence Branch. The events suddenly get three headed.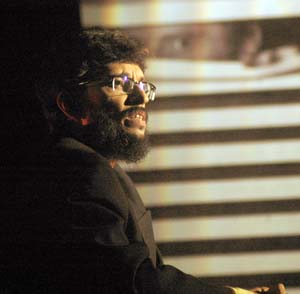 Playwright, Director, Sangram Guha. as Mahesh Srivastav.

The Intelligence Branch opens up an inquiry commission headed by Mahesh Srivastava and Saxena to establish the probable link between Farah and Al Quaida. Second, Dona engages herself in a frantic search for unearthing the reality that took place in the surrender camp that turned into the killing field, and last but not the least.... a third force enters to nab Farah – silently but unmistakably – and to throttle her voice for ever.....

 

Play Cast

· Abhigyan Guha
· Ashim Raychowdhury
· Ashok Bandyopadhyay
· Bapi Dasgupta
· Diganta Banerjee
· Koushik Ghosh
· Partha Protim Nag
· Sampa Sen
· Samudra Guha
· Sangram Guha
· Shyamotpal Chanda
· Subhabrata Chanda Choudhury


NB:Cast arranged in alphabetical order of names.

Media Reviews

-

The Indian Express: 10/31/2005 :Leftist playwright targets Fernandes in new work


-

Anandabazar Patrika, Editorial Article: 11/16/2005 :Not Fiction, It is true


-

Frontline: 4/7/2006 :Spandan, has drawn the attention of the intelligence agencies of India.


-

Hindustan Times: 10/31/2005 :Fearless voice of truth


-

Ganashakti: 10/26/2005 :"Istishadi" will have Vishnu Bhagwat in the audience.


-

Sananda: 2/28/2006 :Drama but true


-

Sambad PRATIDIN: 10/31/2005 :Real Incident, Information Based, Terrorism Now On Stage



-

Anandabazar Patrika: 10/26/2005 :Defence Ministry embarrased by Sangram's New drama


-

Anandabazar Patrika: 12/3/2005 :Dreadful Reality