LIBERATION
Written by: Samudra Guha
Directed by: Samudra Guha
Music: Kankan Bhattacharjee
Set: Shubhabrata Chanda Chowdhury
Light: Uttiya Jana
Make up: Md. Ali
First show on : April 23, 2010, Sisir Mancha, Kolkata
Shows till date: 46
Synopsis of the Play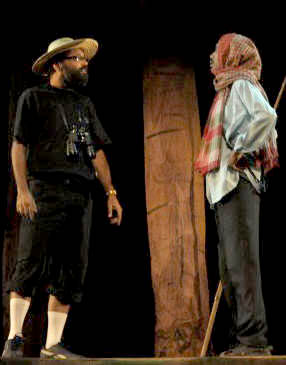 Bapi Dasgupta as Nimo.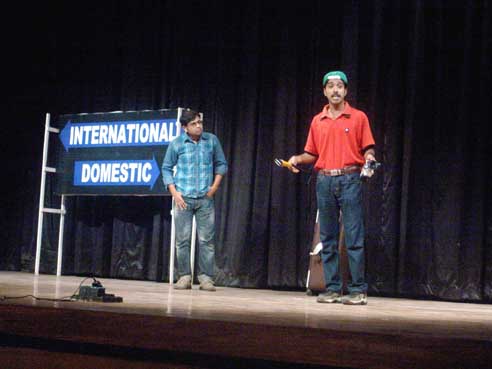 Supratim Dutta as Adbhut

Unbelievable! 6 types of vulture from Surcoramphus papa to long Billed vultures are now hovering the sky of western part of West Bengal. Even the Great Indian Bustard which is gradually extinct from Indian geography resurfaced there. These two lines of media clipping are enough for an internationally reputed bird specialist NIMO to rush there in West Bengal; he got the news in Cairo. Who is Nimo?

Nimo means no one. But he is not only a bird specialist; he has a kinship with West Bengal, why? Because at his young age in 1973 he deserted Calcutta, blood stained West Bengal. 37 years later he is now here. At airport eyebrow became critical both of Tathastu (Tour operator co- agent) and Adbhut (Tele media representative) knowing his journey area ie, Junglemahal, virtually a land of terror, anxiety and brutal murder. But undaunted Nimo went there in search of vulture with panicked Tathastu.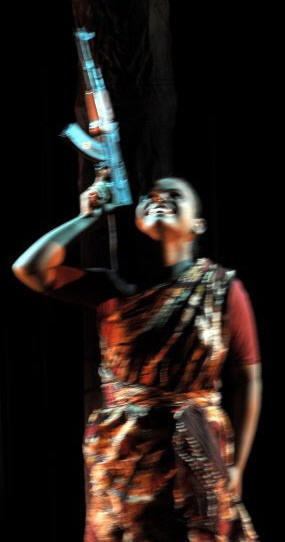 Dona Gupta as Sukmoni
Raju as revolutionary and Sentu as Bijlibabu

In dense forest at first they meet with a tribal girl Sukmoni who informed them about the proper location of Vulture Empire. Exulted Nimo all at a sudden realizes that he is alone and being surrounded by a guerrilla squad and its commander Ratan, while he collimates his binocular. Ratan understand it very quickly that Nimo is politically hard nut to crack. Nimo explicate their activities as so called revolutionary, even brandished their killing spree as Taliban outfit. Nimo's irrefutable political challenges not only outmatch Ratan's political strategy but also create an admiration among his fellow comrades.

There is also one captive who is a electrical technician named Bijlibabu. Desponded Ratan in anger desperately attack Tathastu and under duress he slyly uttered Sukmoni's name as source for their presence here. Ratan ordered her death sentence but Jhanksu (squad member) vehemently opposed it and later stand resolutely against the brutality at gun point. He opposed it because Sukmoni is his own sister. It's a dramatic irony.
Kaushik as Ratan.

Amazed Sukmoni found his brother as guerrilla personnel for whom they desiderated long days. She described in short their pity distressful condition and revolt against the dictate of Ratan.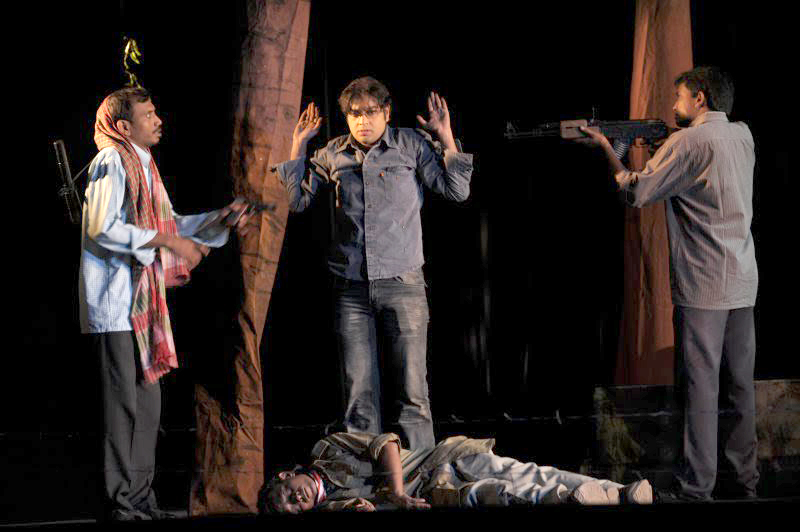 Titas Das as Tathastu.
Mahadeb Shee as Jhanksu.

In the mean time Ratan got a signal that sounds of unknown footsteps are now marching towards them, realizing the grim situation he abandoned his plan and gave an order to retreat. But through a tussle with Nimo he forced to leave his carbine.

A fierce armed battle is conflagrate, sound of bullet resounds the whole junglemahal; a forest became a battle field. End of war Nimo saw that all vultures fled away from their nest or ghetto. Liberation comes true at last in the Death Valley. But at the end Tathastu asked Nimo about his real intention, Nimo replied it with philosophically then disappeared; suddenly Tathastu realizes the no existence of Nimo. He frantically tries to find Nimo to get the answer of several questions but there is no one; Nimo virtually a conscience expound, expostulate and exist. Illusion becomes true.

 

 

 

Play Cast

· Bapi Dasgupta
· Dona Gupta
· Ishani
· Koushik Ghosh
· Mahadev Shee
· Sanjib Dutta
· Sentu Chakrabarty
· Srijani Guha
· Sumita Dutta
· Supratim Dutta
· Titas Das


NB:Cast arranged in alphabetical order of names.

Media Reviews

-

AJKAL: 10/23/2010 :Virtuous Realization Of Sukhmoni and Others. --- Chandan sen .


-

Daily Desher Katha: 8/31/2011 :"Liberation" Unveils the game of face and façade.